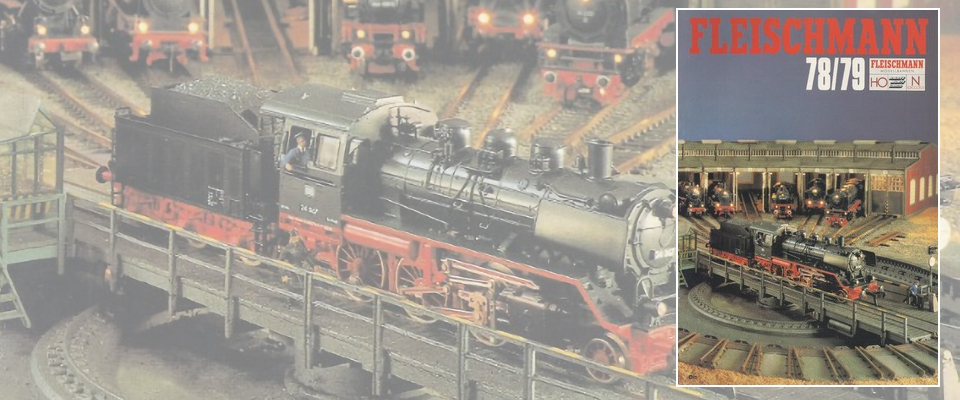 April 2023 - Fleischmann catalogue 1978.
The Fleischmann turntable is the center of attention on the cover. At the time of the photo, the DB series 24 was just being turned. The first novelty can be found on page 11. Here we find the DB class 94 tender locomotive (order number 4094). This locomotive with the no. 94 1730 would be in the catalog up to and including 1999.
On the same page, the "Anna" is now offered with a two-axled tender (4111). The lighting is imitation, but for a starting model railroader a cheap alternative to the more expensive steam locomotives.
Among the diesel locomotives we find a new model in the two-axled locomotive from O&K (4203) and a color variant of the DB series 261, now in the colors ocean/blue-beige and with the loco number 260 108-6 (4227).
A Wyhlen 10 tons crane truck is new for the starter series this year (5019).
New passenger cars are the 3-axle baggage car of the series Pw3 (5095) and two 2-axle cars CPwi and CCitr (5065 and 5067). All of the Deutsche Reichsbahn, so epoch II.
There is also no need to invest much in new freight wagons this year. Only the boxcar, series G10 (5350) and an EVA tank car (5475) are the novelties for this year.
We also see new curved tracks for the rail series 6000 and points with a movable center piece.
Download the catalogue.