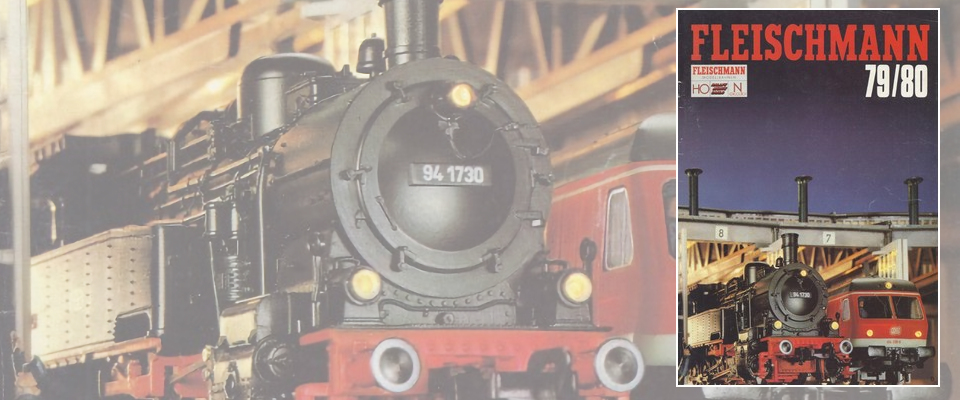 July 2023 - Fleischmann catalogue 1979.
On the cover we see the novelties of last year and two years ago. The tank locomotive 94 1730 and the diesel railcar set 614 038-8, both of the Deutsche Bundesbahn.
Further novelties for this year are the tender locomotive 4095. This is a completely black version of the DB 94'er with supplied inscriptions from various European railway companies.
O&K's red diesel locomotive will be joined by a green variant (4204) this year.
The class 120 electric locomotive is released in the TEE-colors beige/red (4350).
In addition to the class 614 pebble grey/orange diesel railcar (see also cover), the ocean blue/beige 614 083-4 is now also available. Of course also with intermediate car (4434 and 4435).
Among the passenger coaches we find new two-axles small coaches of the Deutsche Reichsbahn Gesellschaft from the period II, namely 5066 and 5069. The only other novelty is the QUICK-PICK dining car 5193 of the Deutsche Bundesbahn.
The stock of freight wagons is expanded with a sliding wall wagon from the Swiss brewery Warteck (5337), a small livestock wagon (5356) and two four-axle tank wagons. A green one from BP (5472) and a blue one from Aral (5473).
The range of rails from the series 6000 is expanded with a new series of curved tracks, uncoupler rails and buffer blocks. Important news is the new turntable, suitable for both two-rail and three-rail system and fitted with nickel silver rails (6652). Of course there is also an extension set (6653).
Download the catalogue.