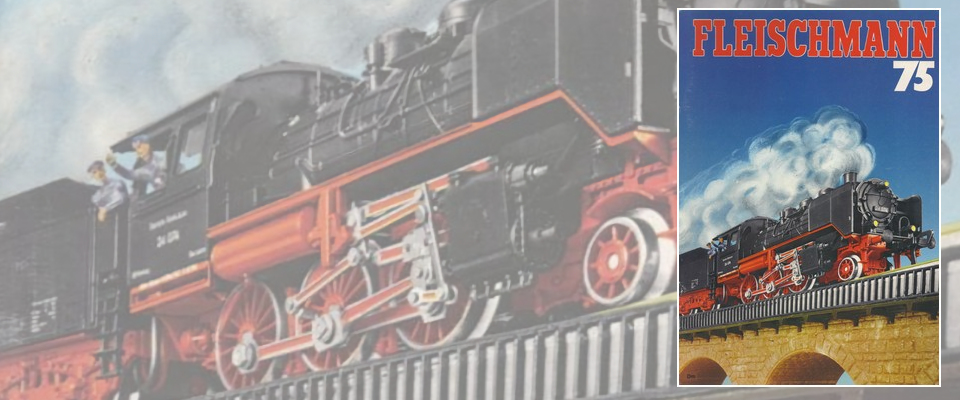 January 2023 - Fleischmann catalogue 1975.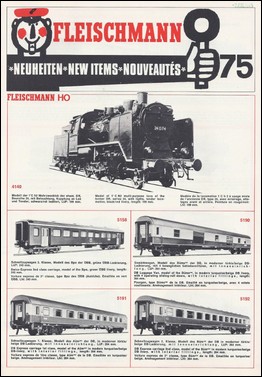 On the front of the catalog we find the only novelty among locomotives: the class 24 of the Deutsche Bundesbahn. This tender locomotive is available under order number 4140.
In this catalog we see for the first time the starter set with the simplified version of the tender locomotive "Anna"; starter set 6315.
Several boxcars have been added to the Junior series. For those who like; two wagons from Reichelbräu and Wienerwald.
Then we find four new passenger coaches, a 2nd class coach of the SBB (5158) and three coaches of DB; a baggage coach and two passenger coaches, all three in the colors ocean blue/beige. Order number 5190/1/2.
New freight cars that year are a hinged cover car (5210), a stake car (5286), three refrigerated cars from Transthermos, Interfrigo and Coca-Cola (5340, 5341 and 5347) and a large volume car with a removable roof, driving for Bauknecht (5389).
On page 38 we find another wagon for bulk goods, this time a so-called center unloader (5502).
The rail range will be expanded this year with a level crossing (6499) and a three-way switch. The switch is available without or with an electric drive (6057/8).
To make it easy for our visitors, the Fleischmann Neuheitenfolder has also been added.
Download the catalogue.
Download the novelty folder.